Who is in the Doctor Strange 2 Trailer? I have theorized Tom Cruise's Iron Man or a Monica Rambeau variant… but I am now convinced it is neither.
I'm talking about the mysterious, flying, character you see blasting Wanda during the official trailer for Doctor Strange 2. We all said Captain Marvel at first and then we thought it was maybe a Tony Stark variant in an advanced 'superior' Iron Man suit.
Could It Be Maria Rambeau In The Doctor Strange 2 Trailer
I am starting to see what fans are saying now after spending days looking at each frame from the Doctor Strange 2 trailer.
If you look at HD images and/ or the part of the trailer that this character appears in enough, you will notice that this looks more like Captain Marvel than Iron Man. This isn't to say that Tom Cruise's Iron Man won't be making an appearance in the movie, his tech is clearly being used after all.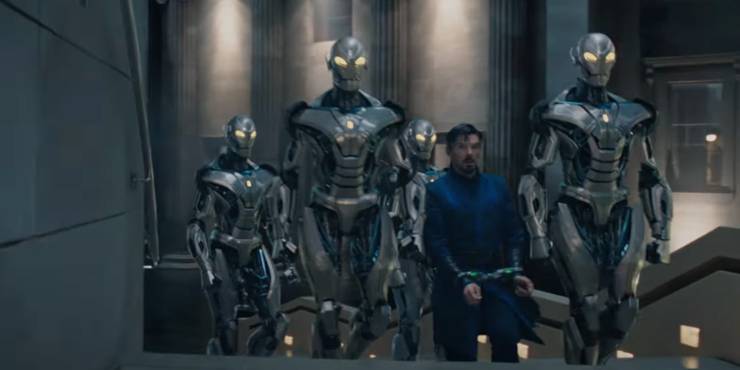 The reasoning behind fans theorizing Tony Stark will be appearing in Doctor Strange 2 is due to a number of reasons. One being the fact that Stark's tech is prominent in multiple parts of the trailer. Another reason being various plot leaks from the last year seemingly confirming Tom Cruise will be playing Tony Stark.
THEORY: What If Maria Rambeau was Captain Marvel?
Marvel fans are declaring that it is 100% Maria Rambeau you see in the Doctor Strange 2 trailer… and I'm pretty onboard with that idea now. Let me breakdown all the points and clues that hint about this being a Captain Marvel variant donned by Maria Rambeau.
Doctor Strange 2 Plot Leaks
Firstly, we can't hide from the fact that the trailer confirmed a major plot leak that released last year is true.
The part of the leak that should bare interest in this article though is the fact it states Captain Marvel is part of the illuminati. However, the leak stated that Monica Rambeau will be Captain Marvel. Nonetheless, fans are assured that it is Monica's mother Maria playing Captain Marvel which would play a very fun 'What If' scenario.
Captain Marvel 'What If' Scenario
The next argument to give is that having Maria Rambeau receive the abilities of Captain Marvel would play a great 'what if'!
In the Marvel Studios' flick, Captain Marvel, you see Carol Danvers (Brie Larson) go through her origin story of receiving super abilities. What if it was Maria Rambeau that was in Carol's shoes the day of the accident though? What if Maria became Captain Marvel instead of Carol Danvers?!
Doctor Strange in the Multiverse of Madness will most likely be our best live action MCU 'What If?' as of yet. I would be more interested in seeing a Maria Rambeau x Captain Marvel variant, what about you?
Either way, this movie is going to be amazing and I can not wait to see it on the big screen!